No Valid Plays Crash
If you click on the "No Valid Plays" message, near the "Plays" text, on the right-hand sidebar mining menu, the game will crash instantly with no error or message. Previous to version 1.3.3 of the game, there was also two other manual tile placement crashes that were fixed; however, this one still remains.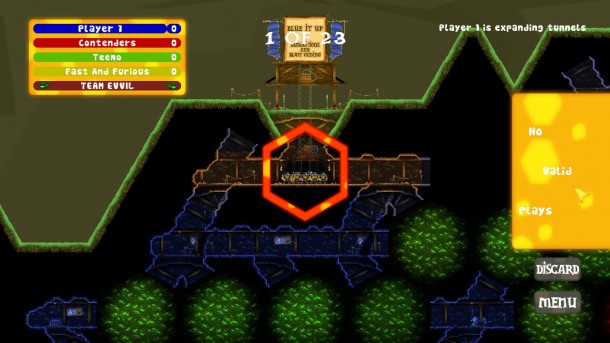 by Vaughn
Comprehensive Fixes List
Fixed: Below is a comprehensive list of fixed and patched issues.
Version 1.3.3 (June 29th, 2011)
Two crashes associated with manual tile selection fixed.
June 24th, 2011
Fixed an issue that caused a crash when clicking "Deep" when it was grayed out.
Fixed an issue that made the "Deep" button unclickable when using manual depth selection.
The last player no longer occasionally mines twice at the end of their turn.
Achievement fixes for Rune Mastery, Slime's Sappin', and Fae Friend.
Fixed menu navigation bugs with the gamepad.
Fixed a crash on the main menu caused by multiple entrances and exits from the new game screen.
Fairy (Pink) Dragons now drop loot.
Fixed a bug that caused AI dwarves to occasionally walk through occupied hexes.
Resolved a button mashing related crash.
October 28th, 2010
Delve Deeper should now run on the Intel GMA onboard family of GPUs
The tutorial is now completable with a controller.
Several fixes for achievements
*Opportunist (only unlocks if you win without turning in any gold, gems, or mithril) *Slime's Sappin Mah Sentry *Blacksmith *Brewmaster *Ties for 0 points no longer count as wins for the purpose of achievements
Fixed the relic sale bug which was causing the sales display to disappear prematurely.
The game must now be in focus to register mouse clicks
Fixed a bug with mis-pricing of oogler sales of negative value
Fixed hexes on maps that were 'unreachable' or 'imbalanced due to their "reachability"'
by Vaughn (Source)